2020 Digital Planner for Goodnotes, a pdf annotation
Everyday deserves a focus, a focal point, of what will make your day most impactful. The Key2Success™ planner system defines your day by setting a focus and outlines the Key3™ action steps of your day.
With the release of the 2020 Key2Success™ planner, we are excited to share that this planner is not only compatible with OneNote on the Apple iPad and Microsoft Surface, but now has been designed for all of those apps that allow you to import a PDF.
2020 Digital Planner for Goodnotes, Noteself and Noability
Making the planner for apps like Goodnotes, Noteshelf and Notability has been a request of many users throughout 2019.
The navigation throughout the planner is simple and quick to use, allowing you to make quick appointment updates or take notes in meetings. With the expanded ability of hyperlinks, we have been able to increase the linking between daily pages and the monthly calendar pages. Also, you are able to access your meetings, projects and goal pages with a simple click. (See below)
With the power of Goodnotes, your digital notes sync across the cloud in real-time.
Since 2016, the founder of the Key2Success™ Planner, Branden Bodendorfer, has been designing a planner that was made and met for digital planning and note-taking. The planner has all the functions needs to plan not only your day but to focus on what goals matter most to you. Branden has been using the planner daily, refining the user experience and developing a digital planning system. Watch the video to get an in-depth look at the latest version of the Key2Success Digital Planner.
Read the Story of the Key2Success Planner below!
2020 Key2Success™ Planning System
2020 Key2Success™ Planning System Intro to Goodnotes
Order Key2Success™ Planner for Goodnotes
2020 Digital PDF Planner for Goodnotes is AVAILABLE for INSTANT DOWNLOAD!
Digital Planner Video Playlist
KEY2SUCCESS Digital Planner, Available for GoodNotes
This exclusive KEY2SUCCESS™ Planner is has been designed as a PDF annotation calendar that can be used on any device on which as an app that is installed and syncs. This digital planner is not a physical notebook, rather a downloadable.
Purchase download this OneNote notebook (note: it is a large file!)
The planner is designed for easy use, with the monthly views outlined at the beginning and the daily view on subsequent pages.
This premier version of the KEY2SUCCESS™ Planner is fully dated with monthly and weekly planners, with bonus pages for notes and additional lists.
A simple design, the notebook contains the following:
Yearly calendar for Dec 2019 through January 2021 and Goals page
Dated daily pages (Dec 2019 –January 2021)
Goal Setting pages that will guide you
Goal Progress pages that will keep you on track
Meeting and project pages to steer you
Note pages that allow you to be free
Key2Success™ Monthly Pages
Key2Success™ monthly pages have been developed to keep in mind the important things in our life.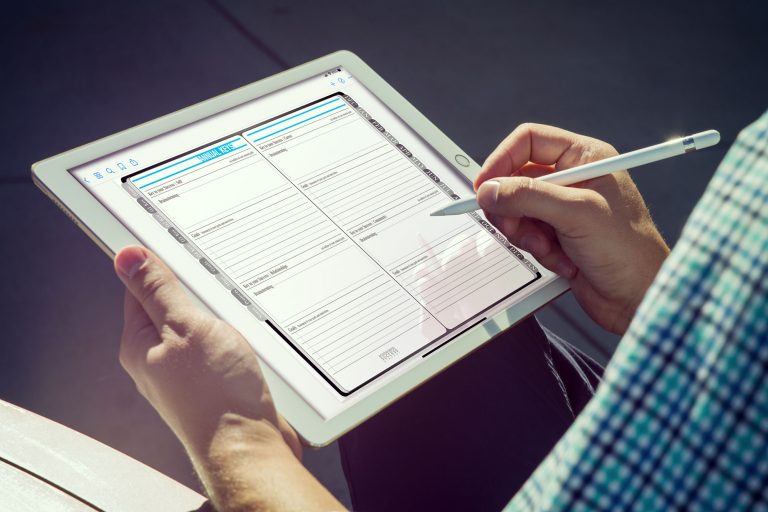 Through the year you will make big plans. Events like projects, travel and personal time can push us off track unless we plan for them.
The Key2Success™ monthly pages are a tool you will use frequently as you set your milestones for success. Understanding where you have big commitments in your months will help you set timeline expectations.
Key2Success™ Daily Pages
Key2Success™ daily planner pages are designed to keep you focused on the action steps that will drive your success.
Unlocking the Key2Success™ starts each day with determining where you will dedicate most of your attention. This is commonly a project, developing a habit, building a relationship or self-improvement.
The next key is indicating the 3 most important assignments that will drive home your goals, we call these the Key3™.
The Key2Success™ daily page provides you with a task list, a timeline of your day, note section, important calls, and opportunities. We will uncover how to make the most out of this page through our membership channel. So make sure to subscribe to our newsletter and Youtube page.
Key2Success™ Weekly Plan
Key2Success™ Weekly Plan page has been developed as a tool to develop your week.
As you wind down each week and set your agenda for the upcoming week. The Key2Success™ Weekly Plan page is there to remind you of your accomplishment, review the business that is unfinished, and make adjustments to your time management.
Utilizing this tool each week will drive your success. Focusing on work, relationships, and yourself, while scheduling your week around the Key3™ will lift your weekly results.
The Bodendorfer Key2Success™ planner has been to be a funnel on your planning. Starting with the big events in your year, the key developments in your week, to focusing on what matters most each day.
Branden Bodendorfer himself using this planner daily and will coach you through the year on how you manage it all.
-This planner is great! After about a week I can say the layout fits my needs almost perfectly.  ~ Dustin D. | User
-Thank you! I will try this evening. I appreciate your support!!!!! ~Christa J. | User
Key2Success™ Goal Planner Page
Key2Success™ goal planner page is your blueprint to success.
We all have dreams, and we should be able to reach them. Setting goals is an essential step in reaching your dreams and setting new heights.
The cornerstone for success is having to continue to focus on your goals and maintaining a priority is key to unlocking your potential. Motivation will drive you. These components are embedded in the Key2Success™ Planner.
Order Key2Success™ Planner
The 2020 Planner includes a FREE Copy of the 2019 Planner.
The Story Behind the Key2Success
Since the introduction of iPad and the Apple Pencil, I have been developing a planner that works. This planner achieves everything I looked for in a paperback planner. As I have developed it, I wanted to make it more than just a template or layout, but I wanted to make it a planner that provides planning tools, pushes you to reach for your goals and achieve success in whatever it is that you do. WATCH PRODUCT VIDEOS: https://www.youtube.com/playlist?list=PL-osGQOP-BI4d6OyGxN_UaN5-N91gC_nJ
VISIT PRODUCT WEBSITE: https://brandenbodendorfer.com/key2success-planner/
Key2Success™ Planner Story
Technology touches our lives daily. As we embrace the advancements being made in our world, we have been left without a solution for daily digital planning that guides us towards our goals, until now.
My personal struggles with digital planning date back nearly 10 years. When Steve Jobs revealed the first-generation iPad in 2010, I looked at the device as a means of ditching my daily paperback planner.
Since my FFA advisor, introduced me to a planner when I was in 8th grade, I used a paper planner in my life daily. Over the years I developed a bookshelf of notes taken throughout my life.
As I started to engage in business and start a family, I realized the importance of being dedicated to daily planning to achieve balance. However, I found myself having to constantly go back to my bookshelf to recover notes.
The tablet presented itself as an opportunity to move from paper to digital. However, through the last several years, I struggled with finding an app, stylus, and layout that fit my daily planning needs.
If I was going to a move to a digital planner I didn't want to compromise the benefits of handwriting.