Key2Success™ Planner Story
Technology touches our lives daily. As we embrace the advancements being made in our world, we have been left without a solution for daily digital planning that guides us towards our goals, until now.
My personal struggles with digital planning date back nearly 10 years. When Steve Jobs revealed the first-generation iPad in 2010, I looked at the device as a means of ditching my daily paperback planner.
Since my FFA advisor, introduced me to a planner when I was in 8th grade, I used a paper planner in my life daily. Over the years I developed a bookshelf of notes taken throughout my life.
As I started to engage in business and start a family, I realized the importance of being dedicated to daily planning to achieve balance. However, I found myself having to constantly going back to my bookshelf to recover notes.
The tablet presented itself as an opportunity to move from paper to digital. However, through the last several years, I struggled with finding an app, stylus, and layout that fit my daily planning needs.
If I was going to a move to a digital planner I didn't want to compromise the benefits of handwriting.
Since the introduction of Microsoft's Surface and the Apple Pencil, I have been developing a planner that works within OneNote. This planner achieves everything I looked for in a paperback planner. As I have developed it, I wanted to make it more than just a template or layout, but I wanted to make it a planner that provides planning tools, pushes you to reach for your goals and achieve success in whatever it is that you do. The KEY2SUCCESS™ Planner is now available for OneNote users and will soon be available as a pdf annotation. So if you love Apple or a Windows power user, there is a platform available for you to start your digital planning.
Order Key2Success™ Planner
The 2020 Planner includes a FREE Copy of the 2019 Planner.
Key2Success™ Daily Pages
Key2Success™ daily planner pages are designed to keep you focused on the action steps that will drive your success.
Unlocking the Key2Success™ starts each day with determining where you will dedicate most of your attention. This is commonly a project, developing a habit, building a relationship, or self-improvement.
The next key is indicating the 3 most important assignments that will drive home your goals – we call these the Key3™.
The Key2Success™ daily page provides you with a task list, a timeline of your day, note section, important calls, and opportunities. We will uncover how to make the most out of this page through our membership channel. So make sure to subscribe to our newsletter and Youtube page.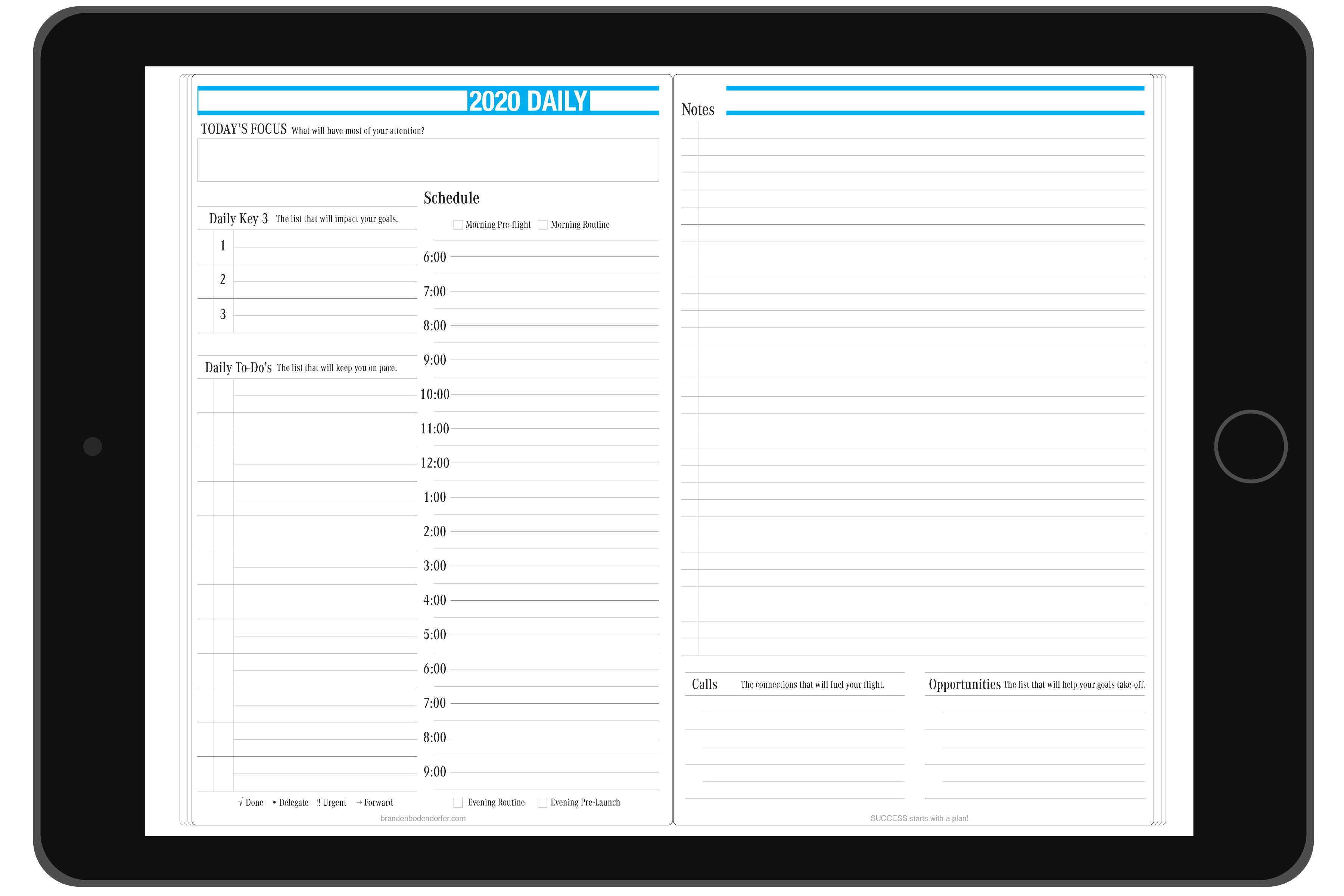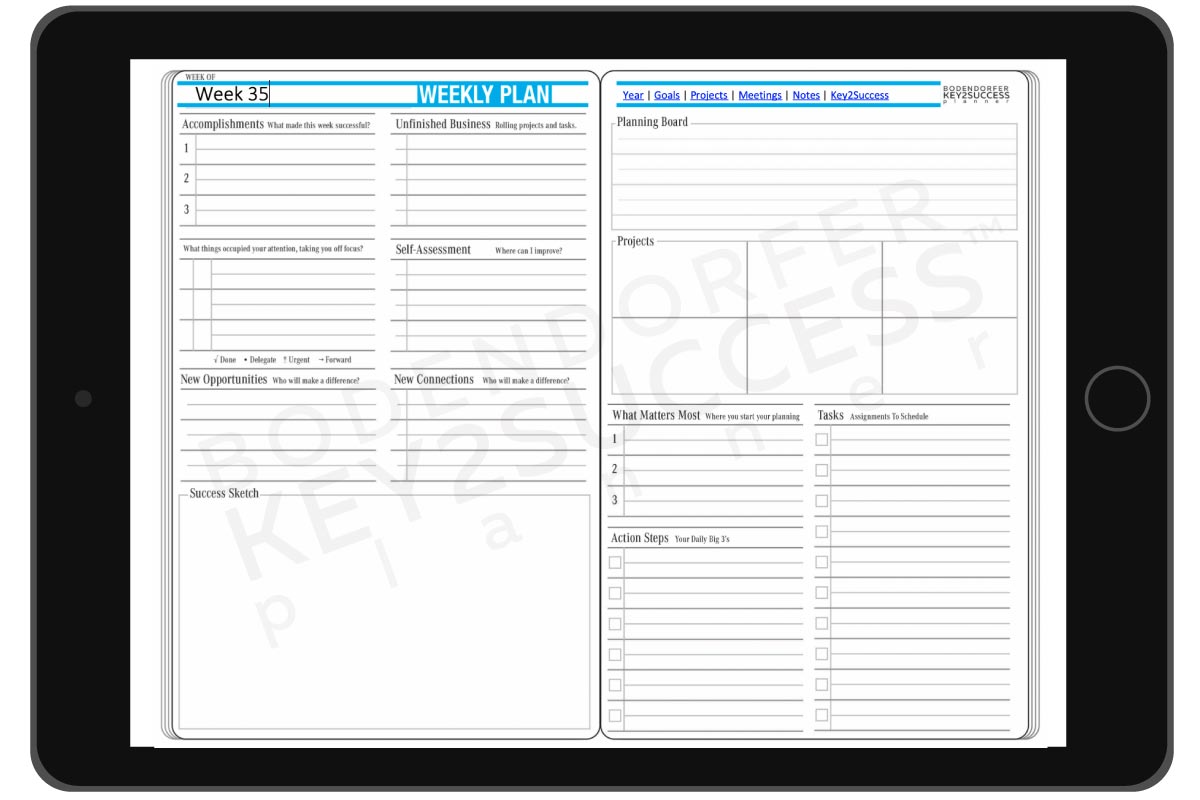 Key2Success™ Weekly Plan
Key2Success™ Weekly Plan page has been created as a tool to develop your week.
As you wind down each week and set your agenda for the upcoming week, the Key2Success™ Weekly Plan page is there to remind you of your accomplishments, review the business that is unfinished, and make adjustments to your time management.
Utilizing this tool each week will drive your success. Focusing on work, relationships, and yourself, while scheduling your week around the Key3™, will lift your weekly results.
Starting with the big events in your year, the key developments in your week, to focusing on what matters most each day, the Bodendorfer Key2Success™ planner has been developed to serve as a funnel for your planning.
Branden Bodendorfer himself uses this planner daily and will coach you through the year on how he manages it all.
Key2Success™ Goal Planner Page
Key2Success™ Goal Planner page is your blueprint to success.
We all have dreams and we can reach them! Setting goals is an essential step in reaching your dreams and setting new heights.
The cornerstone for success is having continued focus on your goals and maintaining a priority is key to unlocking your potential. Motivation will drive you. These components are embedded in the Key2Success™ Planner.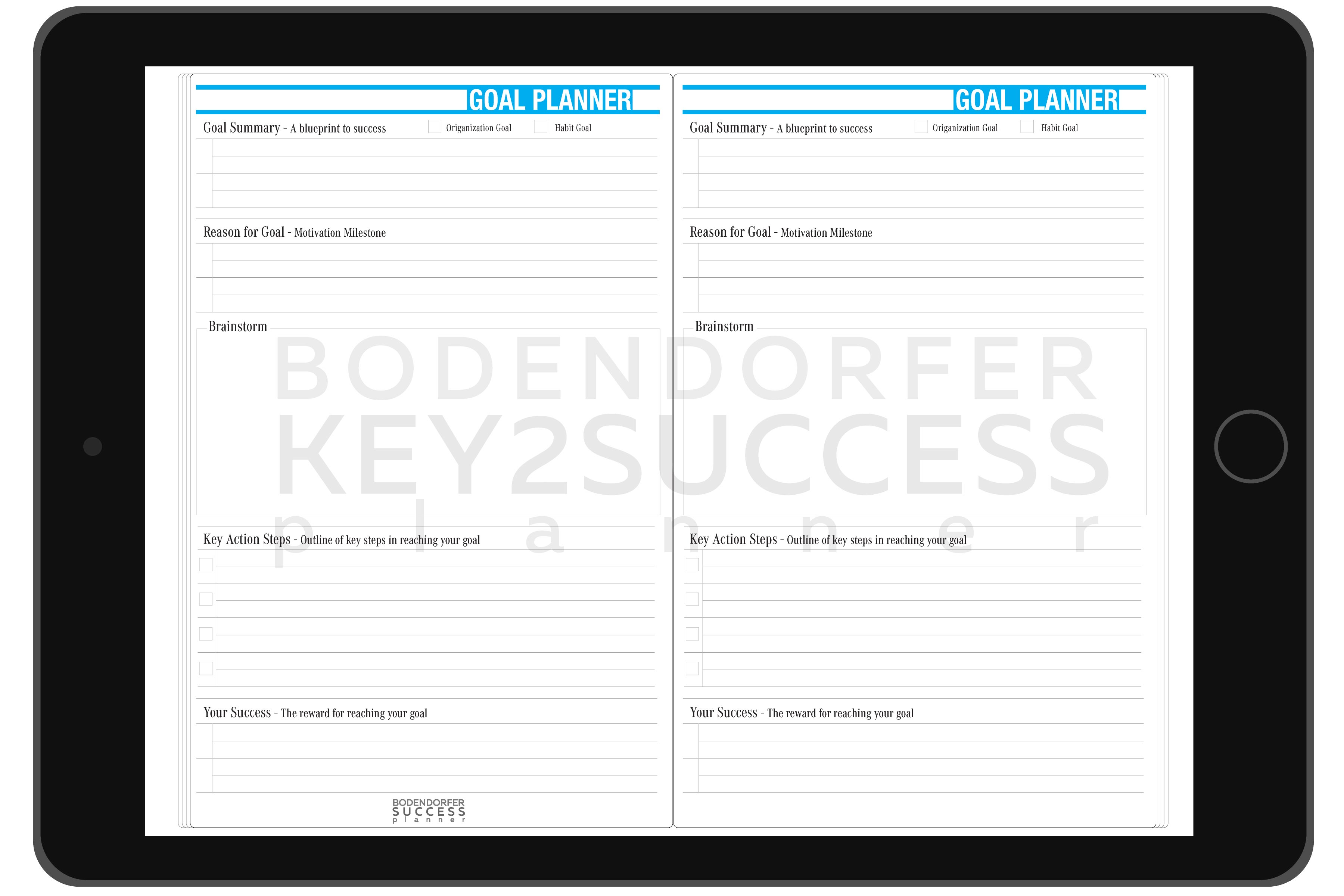 Blog Posts
2020 Motivational Digital Planner Released
#YouGotThis! Motivational Digital Planner, Available in PDF for Goodnotes We are excited to introduce the #YouGotThis motivational digital planner for Goodnotes. This digital planner will help you achieve your goals and stay positive while doing so! The planner is designed for easy use, with the…
How to Use Digital Planning for Success
How to Start Digital Planning for Success Choosing to explore digital planning says something about you. You are someone who wants success in life, whether it be your career, relationships, community, or yourself. You want to grow and see achievements. Well, you are off to…