Opening your new iPad is an exciting moment, one that gives you a sense of possibility. However, the real sense of purpose and gratification begins when you start to see change in your life. Right?
You or someone dear to you made the investment in this piece of technology because you/they believed that the investment would have a great return. However, the real investment is in yourself.
Now that you have the iPad, here are the top accessories to bring the return investment to life. We chose these accessories because they are the ones that we personally use to maximize our digital planning journey.
You can't benefit from digital planning if you don't have yourself a writing device. The Apple Pencil (2nd Generation) provides you a real-life writing experience on the iPad. It makes not only note taking possible, but makes painting, sketching, and even doodling while you are between calls a better than ever experience. 
However, at a price tag of over a hundred dollars, it can be another investment you need to make. We have found that the Active Pencil by Meko is a great alternative. The pencil has a rechargeable battery, a comparable form factor of the Apple Pencil and it is equipped with palm rejection technology. And is currently priced under $25.
View Meko Active Pencil on Amazon
Apple Pencil Get 2 – Compatible with iPad mini (6th generation), iPad Air (4th generation), iPad Pro 12.9-inch (3rd, 4th, and 5th generations), iPad Pro 11-inch (1st, 2nd, and 3rd generations)
Meko Active Pencil – Compatible with IPad Pro 11 inch 1st/2nd Gen, iPad Pro 12.9 inch 3rd/4th Gen, iPad Air 3rd/4th Gen, iPad 6th/7th/8th Gen, iPad Mini 5th Gen Professional Digital Planner
This is the core component to your success. Not only does having a digital planner make sense on an iPad, it truly is the key to success for so many. When you couple the Key2Success Planner with the pencil, you are able to write your notes. Handwriting has been proven to increase brain retention and increase your motivation to commit to your goals. 
The Key2Success Planner has been designed to have all the benefits of traditional paper-like planning with all the wonders of digital technology. You now have a paper planner wherever you go and you can store years with you. And at any time be able to search.
We recommend using OneNote or GoodNotes with our planner on the iPad. See the video to see the comparison. 
The biggest complaint we hear from people who are first starting their digital planning journey is that writing on glass with a plastic pencil is not realistic and that they often have a glare from the overhead lights.
Getting a matte screen protector that is textured like Paperlike brand solves both of those issues. It allows you to take notes like a pro and even can help improve your penmanship as the texture surface offers a point of fraction for your stylus. 
Many will ask the question, "How does the screen cover affect the tip of my pencil?" The truth is it will increase the wear, but we found that when you consider the pros, this is a small concern. 
And last the screen protector does just that, it protects your screen from scratches and fingerprints, increasing the life of your iPad.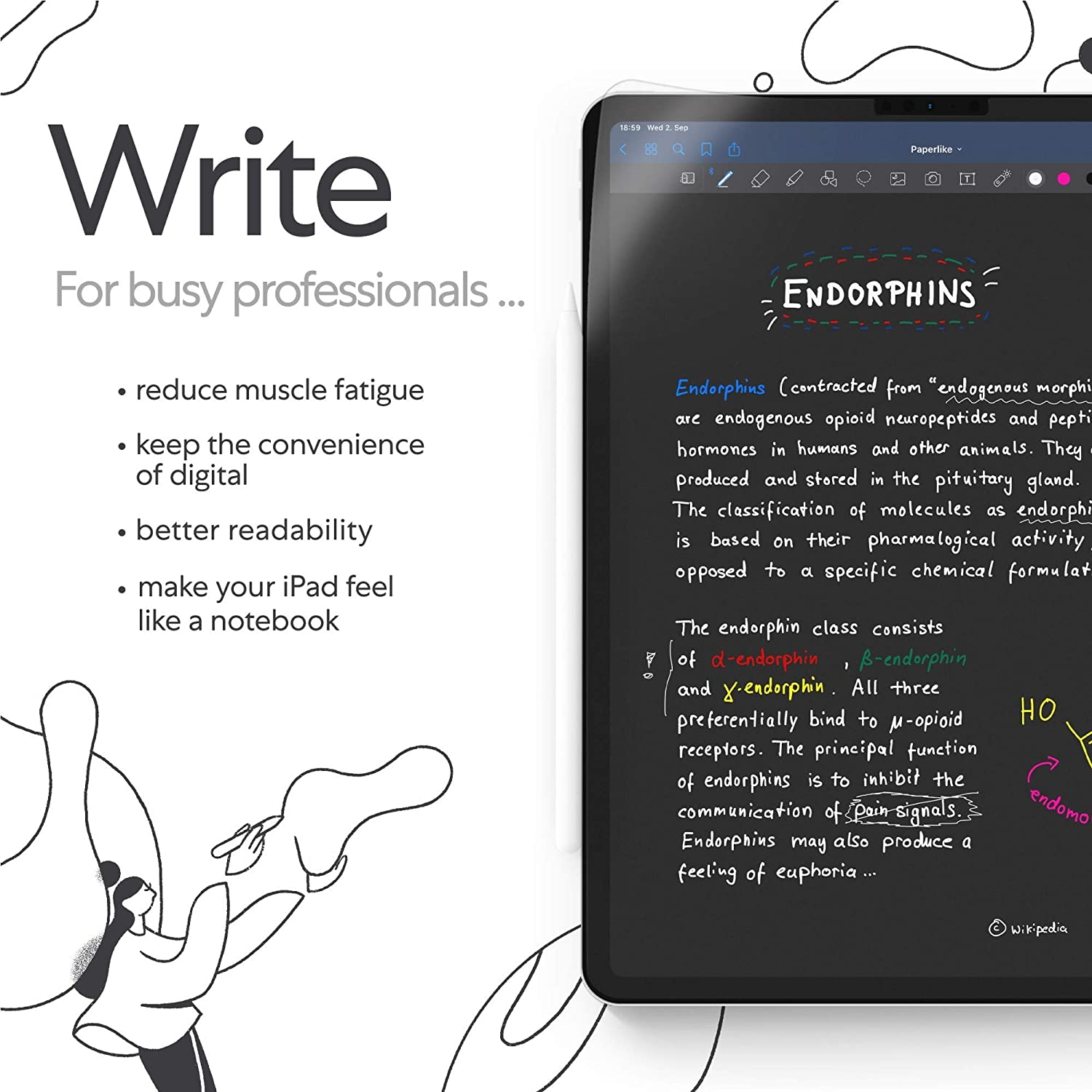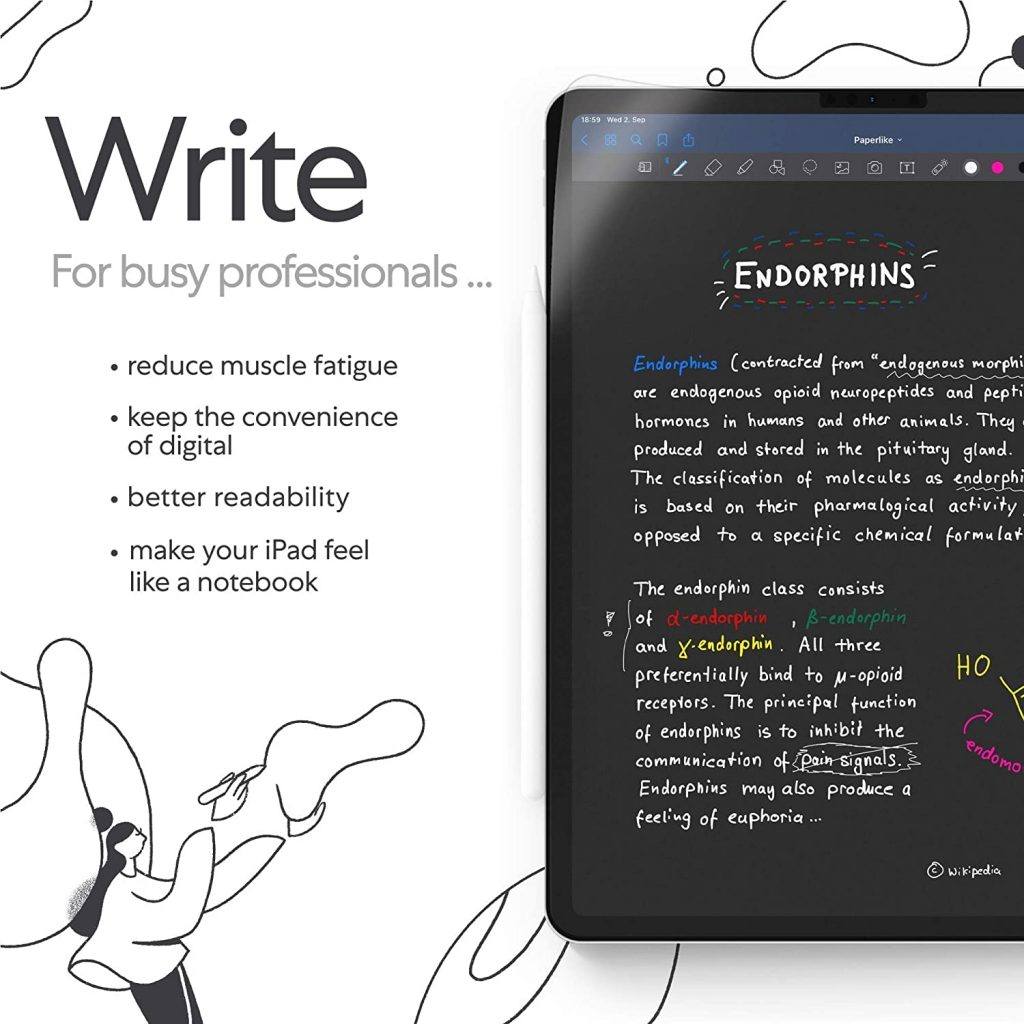 As much as handwriting your notes is preferred amongst digital planners, there will be times when you need to use your device to tackle emails, browse documents, and multitask. The Apple Magic Keyboard is a great solution, however we have found a more enjoyable experience for note-takers using the Logitech Combo Touch Keyboard.
The keyboard offers four versatile use modes that allow you to type, sketch, view and read without ever having to remove your iPad Pro from the Keyboard Case. You can even detach the keyboard for more flexibility . The rear stand allows you a viewing angle that also allows you to handwrite.
And if that wasn't enough reason, the keyboard is backlit, like many laptops, and has a full roll of shortcuts to increase your productivity. If you want to record voice notes instead of jotting them down by hand, then getting a livestream microphone could be a good idea. This is especially the case if you are making notes to support your podcast or video streams.
Last, the iPad case has a cutout for the Apple Pencil that enables charging and storage.
View Logitech Comb Touch iPad Pro 12.9 on Amazon iPad Stand for 180-degree Viewing
Your iPad will become an extension of yourself. And as you begin to use your device more and more for everyday tasks, you will find that having a stand at your desk or available as a travel buddy is a pro move.
We often use a stand to not only view our planner during the day, but also for securing the iPad as a second monitor.
The ability to adjust the angel of the display increases your handwriting experience. Now that you have your iPad and the accessories to go with, you're ready to make full use of your new device! We recommend these top accessories to help you make the most of your new investment!
Remember: Investing in technology is great, but most of all it's important that you are investing in yourself. Enjoy your new iPad and please reach out to our team if you have questions as you get started with digital planning!