A Full Overview of Samsung Notes
The Key2Success Planner works across many devices and applications, and one of the more recent additions to the lineup is Samsung Notes. Today, we're sharing how to use Samsung Notes for note-taking and digital planning. We've used Samsung Notes on the Samsung S22, Z Fold 3, and the new Tab S8 Ultra.
Samsung Notes is a PDF annotation app that allows hyperlinks. With Samsung Notes, you can create and use hyperlinks to easily navigate through a PDF. (The Key2Success Planner is already hyperlinked for your convenience.)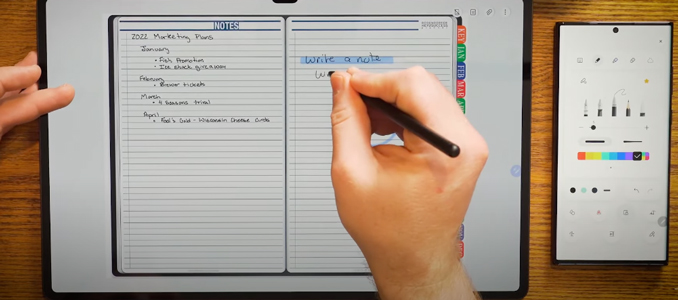 Note-Taking is powerful in Samsung Notes, with several different tools that are easy to customize and access.
Pen Mode

 – There are many different options for Pen Mode and the option to create custom pens and favorite them. There is also flexibility to move your menus, allowing you to maximize space and maneuver through your device settings more easily.

Highlight Tool

 allows you several options, too, including straight and wavy options. You can also adjust the opacity that allows your writing to show through. You can even adjust it after the fact.

Eraser Tool

 has a stroke option or area option, allowing for more removal precision.

Lasso Tool

 allows you to resize text, writing, and images. You can convert your written text to typed text.
Check out the video for a full look at using Samsung Notes.
Here's what we cover in the video:
How to create a note in Samsung Notes
How to add a PDF file
How to add pages
How to bookmark pages
How to adjust page settings
How to draw with your finger
How to type in Samsung Notes
How to scan a document and mark it up
How to convert written text into type
How to convert an entire written page into type
How to create shapes
How to use the companion feature with multiple devices
How to import images
How to share a page
Samsung Notes is a great application to use with the Key2Success Planner. Adding pages is easier than with ReMarkable and GoodNotes, for starters.  There are many ways to adjust page settings, allowing you to optimize space for planning and journaling. If you don't like your handwriting or simply want the option to type, you can create a text box. If you have trouble with your palm turning the page, there is a way to lock the page.
To learn more about the Key2Success Planner, click HERE.