Move or Copy OneNote Tabs from one Notebook to another Notebook
For users looking to copy or move tab or sections to a new notebook.

Start by adding a new notebook.
Choose a name for the notebook.
For users looking to open a notebook that was shared with them online.
Click Open Notebook (Found in your email account linked with your OneNote)
The notebook will open in your browser.
In the tool bar of the notebook online, click "Open in App". A pop-up might ask you for permissions.
Your OneNote application will open and the notebook will open in the app.
Moving or copying Tabs and Sections from the shared notebook to your new notebook.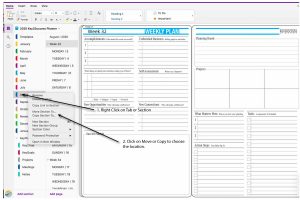 In the Notebooks pane, right-click on a section.
On the shortcut menu that appears, click on Move or Copy Section Too…
In the Move or Copy Section dialog box, select a notebook or a section in the notebook.
At the bottom of the dialog box, click either Move or Copy.
Pro Tip
You can click and drag the tab or section across notebooks.